Christmas has often been a somewhat painful season for me. I grew up in a big household with five kids so my parents were trying to cut corners any way they could. They would wait until about three days before Christmas to buy our Christmas tree, which was always a Scotch pine, the cheapest Christmas tree available on the entire planet. The Scotch pine normally retails at about $10 a month before Christmas. Three days before Christmas, they are drier than a British sitcom and the vendors will pay you to take them off their hands.
My parents would bring the tree home for my siblings and me to decorate. It was like having a six-foot cactus in our living room. I grew up thinking emergency room visits were a normal part of the Christmas tree decorating experience. I usually lost about two pints of blood during the holiday season.
A few Christmases ago, I had some pain that was of a different sort. My sweet wife got me a radio-controlled airplane which I had wanted for quite some time. Unfortunately, I managed to land it in a tree on its second or third flight. I spent the next three and a half hours trying to rescue my plane but was forced to give up when it started turning dark outside. All of this on Christmas day, mind you.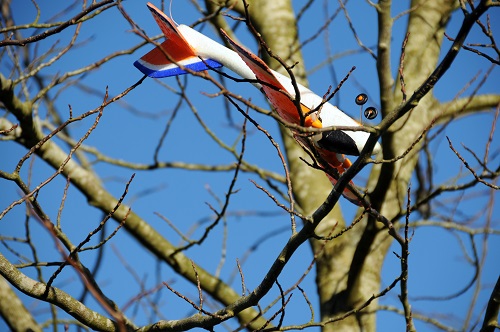 I must admit to thinking some rather un-Christmas-like thoughts after about the second hour of the rescue mission. I swear I could almost hear that stupid tree taunting me. You have to understand, this was the second plane I had received for Christmas in my life. The first one I had gotten when I was about eleven years old and managed to lose it on its maiden voyage as well. This may just be a guy thing, but I can't tell you how the thought of losing yet another Christmas plane galled me. And in my mind, it was all that stupid tree's fault.
After a while, I gave up and went home. I wasn't in the best of moods, but after I calmed down a bit and hung out with my family.  I even stopped swearing vengeance on that pine tree.
Fortunately, I didn't have to lose the plane.  I returned the next day and had it out of the tree in about thirty minutes.  I'd like to say I am completely over my Christmas day ordeal, but I must admit that sometimes I still find myself entertaining thoughts that involve a chain saw and a certain troublesome pine tree in Dacula, Georgia.
Excerpt from I'm Not Crazy, But I Might Be A Carrier by Charles Marshall © 2007. Charles Marshall is a nationally known Christian comedian and author. Visit his Web site www.ChristianComedian.org or contact him via e-mail at Charles@ChristianComedian.org.